Studio is close Saturday,
January 22
Classes will resume, the following week. Thank you so much for understanding.
New session starting, sign up before it's sold out.
Subscribe Now & Be up to date.
Bringing Dancers to the level
I Will Help You Every Step Of The Way
Salsa + Bachata + Cumbia + Mambo + Zouk + Kizomba + Argentine Tango + Hustle + Swing  + Ballroom + Latin + Samba Gafieira + Samba Funkeado + Steppin + Zydeco + If the style of dance is not listed please give me a call or message me. 
Drop-Ins Welcome
Group Class
No Partner Necessary
Reservation Required
First Come First Serve
$25 per person
Free 45 Minute Wedding Consultation
Let't talk about what I could do to make your wedding dance amazing.
$Free
Want to better on your social dancing, spins, styling, follow/lead and turn combiantions. 
* Any style of dance
$95
I only want the best for my students

John Doe
@KianaHorn
My brother got me 4 bachata lessons with Dennis for my birthday. It was the best classes I have ever taken. It has been several months and I am still doing bachata lessons plus salsa lessons with him! I have learned so much and the class is always such a good time! If you are looking for a place to take lessons, this is the place!!

Andrene Wright
@AndreneWright
My boyfriend surprised me with this dance class for my birthday! he knows i love to dance but hes not the greatest dancer, so we did this together. Dennis was a great patient, fun, and articulate instructor. my boyfriend and i learned so much and we cant wait to be back. we learned a bachata dance but next time, we'll learn kizomba! it was an awesome time. thanks Dennis!

Andrea Haidar
@AndreaHaidar
Dennis was an excellent instructor! We came here to celebrate my friend's birthday. Dennis taught us a bachata choreography. I am usually not much of a dancer but he helped us feel the music and find our rhythm! I'll definitely be coming back soon!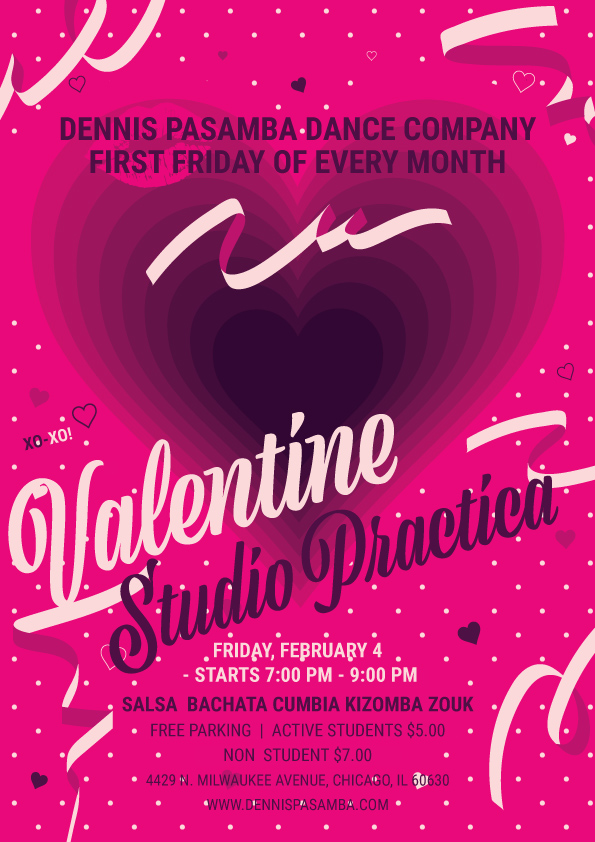 Practica happens the first Friday of every month to help students develop  their skills, confidence and focus on they learned and give people access to connect with themselves and others to have fun, and express themselves, through dancing.